Avery Bedows is probably one of the youngest entrepreneurs working at HanaHaus. Originally from Chicago, he co-founded his own Virtual Reality and Augmented Reality business last year and is running it as the CEO. In our new "People of HanaHaus"- Blog, Avery is talking about the advantages of being in the Bay Area as a VR and AR startup and the variety of tasks he manages as its head.
------------------------------------------------

Name: Avery Bedows

Age: 20

Origin: Chicago, Illinois

HanaHaus Visitor since: Late June 2016

Job Title: Co-Founder and CEO

--------------------------------------------------
My Job in Silicon Valley is about…
"…running Altar as a CEO. My job is to define the company's goals and find ways to achieve them. We, as a company of four, are working to augment human intelligence using Virtual and Augmented Reality. I do some engineering work, help our research team with their studies, and seek inspiration for our products by reading research papers. I also give a bunch of demos and handle the administrative work. As a startup CEO, you are involved in everything."
Got to know HanaHaus…
"…through Blue Bottle Coffee. I had my first one in San Francisco a few years ago and it rocked my world! I was even more excited about HanaHaus after realizing I could not only come for coffee, tea or snacks but also for work."
Used to come to HanaHaus…
"…because we don't have a dedicated office yet. So, I work either in my apartment or more recently at HanaHaus. I work here on a variety of things like coding, researching, reading papers, meetings…the many things you do as a CEO."
My journey to Silicon Valley started when…
"…a friend and I came up with the idea of creating whiteboards in 3D while at dinner in January 2016. At that time, I went to Pomona College down near Los Angeles, and I couldn't stop thinking about fusing the ideas of collaboration and productivity into a tool using VR. I incorporated the business in April 2016 and we really got cracking last September. I decided to move to Silicon Valley because most of the knowledge in the U.S about VR and AR is focused here. If I started it somewhere else, it would be very difficult because the number of people familiar with those topics is far lower. As a startup, we're trying to get good feedback and talk with potential customers or investors. That's tough when no one knows about the technology we are working with. So, there is a lot of value in being around people who know about the market we're in."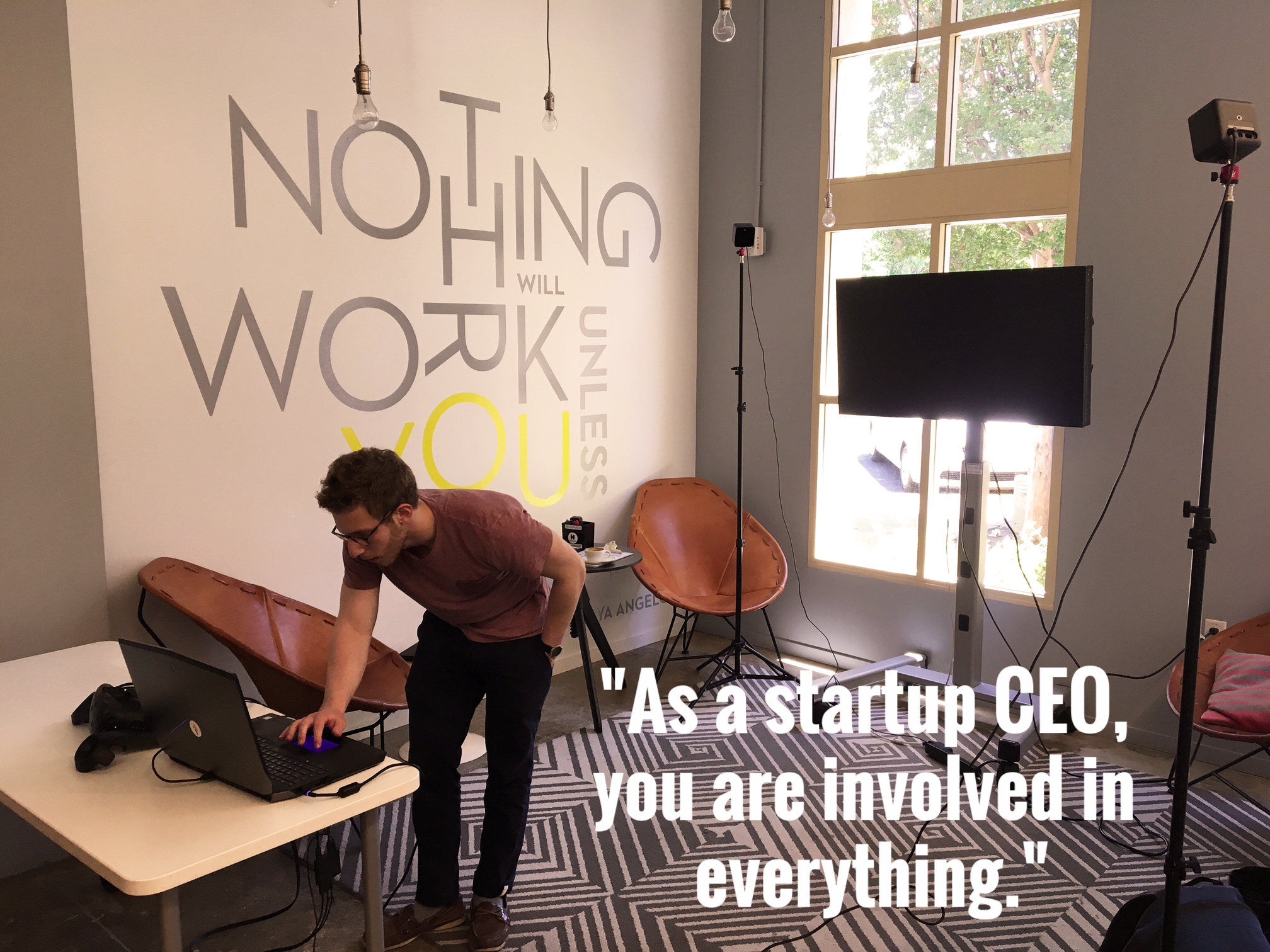 HanaHaus is unique because…
"…it has the vibe of an office. It's nice to sit down at a place that feels like it is meant for productivity. The colors are very bright and airy, the ceiling is high, you see people hanging around with their computers or being in conversation. I like the rotatable and comfortable chairs and nice clean desks where I can spread out a little bit. These things make me more productive. HanaHaus is somehow transient but it also feels like an office space. It's transient in that people book rooms for hours and not for months. That's why you can sit down and feel like you're working in your own space."

The best experience at HanaHaus was...
"…when I had the pleasure of giving Daniel and Luca from the HanaHaus Team a demo of our software 'Altar Show', a VR collaboration tool for brainstorming and organization which leverages 3D space to improve human memory. I showed them how to use it in one of the HanaHaus lounges."

The favorite spot at HanaHaus…
"...one of the tables on the wooden platform in the center."

In 3 words HanaHaus is…
"…. transient, rooted and comfortable"

In our new blog series, People of HanaHaus, we present the folks that fill our workspace cafe with life: Start-Uppers, entrepreneurs, artists, founders, innovation managers, students, unicorns, venture capital investors and the people who make HanaHaus unique. We want to learn about their journeys and what brought them to Silicon Valley. We ask them to speak about their current projects and why or how they leverage HanaHaus for their business.